Amphibians and Reptiles
All photographs were taken at Pinestead Tree Farms Isanti Pinestead location.
Bull Snake
We saw our first Bull Snake in the spring of 2012. As happens so often by the time we got back with the camera it was gone. We have flagged the location and gone back several times, but to no avail. Hopefully, we'll catch it sunning itself some warm summer day. Bull Snakes are not poisonous, and help keep the fields clean by eating small rodents.
Garter Snake
Garter Snakes are more numerous, but much smaller then Bull Snakes -- and much quicker. We doubt if we'll ever get a picture as often they just slither away under the tall grass and into a hole somewhere.
Gray Frog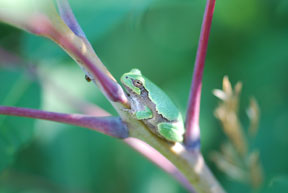 This Gray Frog was sitting on a branch in a clump of Sumac. You have to look closely to see it for a good reason. It's natural camouflage makes it almost impossible to see from more than a couple of feet away.