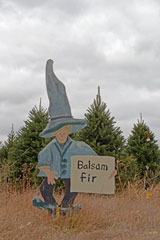 A Minnesota native with the traditional look. Available as either choose and cut or as fresh pre-cut Christmas trees.
Most fragrant of all trees, with short (about 1") flat needles.
Best (4-5 weeks) needle retention of the short needled trees.
Soft to the touch and sturdy enough for medium weight ornaments. Growing time: 9+ years.
We will shake, bale, drill, and tie your selection.

We do have maps and saws available at our greeting sign, but our elfs are out in the fields to help as well. They all have signs because they are too shy to answer a question.
The following photo shows a pre-season view of part of a Balsam Fir field. Trees available for sale all have a red & white highly visible price tag.