Guys Bread Pudding Recipe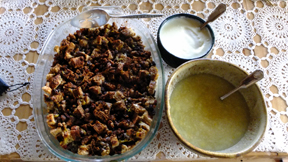 Last year's recipe, baked apples (see November '09 archives), was a great hit (no-one complained), so I thought this year I would share another one of my dessert recipes. This one is for the best bread pudding ever. I have made it at least a half dozen times. Of course, what makes bread pudding so great is the sauce, so I'm also including directions for making a couple of them.
I wanted to get this out before Thanksgiving so you could serve it and ace out whoever brought the cranberry sauce or the sweet potatoes. Use it again at Christmas and then again at New Years. If people start to tire of it (hard to believe), then switch to the baked apples.
Lube a cake pan (the one in the photo is slightly oval and measures 14" by 11") and fill it with bread cubes. Best to use a variety of light and dark breads. The older and dryer the better (cut off the green stuff when no-one's looking).
Scatter a half cup or more of raisins over the top.
Then, if you're the nutty type (like me) scatter a half cup or more (emphasis on more) of walnut pieces. Otherwise omit the nuts and much of the flavor.
Separately, scald a couple of cups of milk. (That means bring it just to a boil without having it boil over and making a mess for your spouse--this is not the time to go check on the game). Then remove from heat and
Drop in a half a stick of butter
Also scramble a couple of eggs with a fork and add them in.
Then add like, say, a half cup of sugar.
Plus a tich of salt--maybe a fourth of a teaspoon.
Plus a big T of cinnamon.
Pour the mix over the bread cubes trying to hit them all. Then sprinkle on some more cinnamon. And then some more--that's what makes it really good.
You should put this cake pan into a larger one with hot water in it before putting it in the oven. The bread pudding will stay much more moist. It will still work without the water, but it will be more of a bread bake than a bread pudding. Even so, the sauce can fix that.

Usually 45 minutes or so at around 350 degrees will do the trick. Stab it with your pocket knife, if nothing sticks, you're done and back to the game.
The Sauce
Here are the directions for making two different sauces. The first one, Lemon Sauce, is for the teetotalers of the family (and the kids, but they never eat this stuff anyway). The second one is for the people who like to party. Of course, if there is a really good game on, you can always cheat and serve it with whipping cream (there are limits to cheating--whip your own from real cream, don't use the canned or frozen stuff)
Lemon Sauce: Believe me this good, good, good.
Start with a couple of cups of boiling (not just hot) water.
Add in 2 tbs. of cornstarch
Now for the tricky part. Continue to cook, stirring constantly, until it thickens and gets bubbly. Try to get the lumps out as you stir. When you think it's ready (not when you're ready), remove from heat and stir in:
3/4 stick of butter
1/2 cup lemon juice (again, don't cheat--squeeze the lemon, don't use the bottled stuff.) Place lemon in your workshop vice, turn the handle while holding a cup underneath.
Grate the lemon rind and add in as much as you can get. Since you're in the workshop anyway, just use a rasp.
Bonus tip: I like it as lemonly as possible so I also dig out the insides (pulp) of the lemons and throw that in. It also helps hide any remaining lumps.
Rum Sauce: Believe me this is better, better, better. And easier to make.
Over low heat, combine:
A one pound tub of sour cream
3 Tbs of water (or more if you want it thinner--but wait until you have added the rum and then see).
Remove from heat then add a half cup of rum (more if you're brave, less if you're chicken). Be sure the heat is off! What's the point in adding the rum if you burn off the alcohol! Sure the flavor is great, but you also want the zing.
One last tip--double the sauce recipes and serve the bread pudding in a cereal bowl, not a dessert plate. Then you can drown the pudding the way it should be. I hate to order bread pudding in a restaurant and have a drizzle of sauce over it, I want a ownpour. Better yet, put the sauce in a pitcher and let everyone add their own (just don't let me go first).

ENJOY!!! Phil