As promised, this year's Guy's Recipe for 2012 bypasses breakfast and dessert and goes straight to halftime. Get this ready before the game and shove it into the oven a few minutes before halftime (not responsible for overcooking due to excessive time-outs).
Spray a cookie sheet then layer it with Nachos, Doritos, corn chips or whatever your preference—even crackers such as Wheat Thins or Triscuits will work . Just make sure to cover all the open spaces so the toppings are on the chips, not the pan.
Now you want to load it up with toppings. I use any or all of the following.
· Pre-cooked bacon (for best favor), or ham, sausage, pepperoni…
· Broccoli (cut into small bit size pieces).
· Cauliflower (likewise)
· Tomato (ditto)
· Green pepper, scallions, olives, mushrooms…
[The Broccoli and cauliflower allow you to pretend it's good for you.] If you have a Packers fan in the group make one with anchovies and jalapeno peppers.
Now pretty much cover it with shredded cheese until it's hard to see what's underneath. Then drizzle (not pour or soak) Ranch Dressing over it. Tip—have the Ranch at room temp or even nuke it for 15-20 sec or it will come out in gobs.
Now you're ready to shove it in the oven (preheated to 350) or under the broiler—if you go the broiler route remember to key your eye on it, not the cheerleaders. It's ready when the cheese is nice and bubbly (just like a pizza, which it sort of is)
The biggest risk is that you didn't make enough and you miss the third quarter because you have been sent back to the kitchen to make another batch.
As always, goes best with a good micro-beer.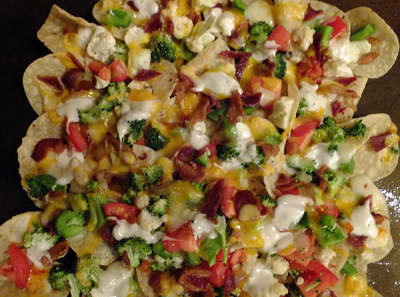 Next year's guy's recipe—right now I don't have a clue
Also check out the recipes from the last three years—just page down to them.
Guy's Baked French Toast (2011)
Guy's Bread Pudding (2010)
Guy's Baked Apples (2009)