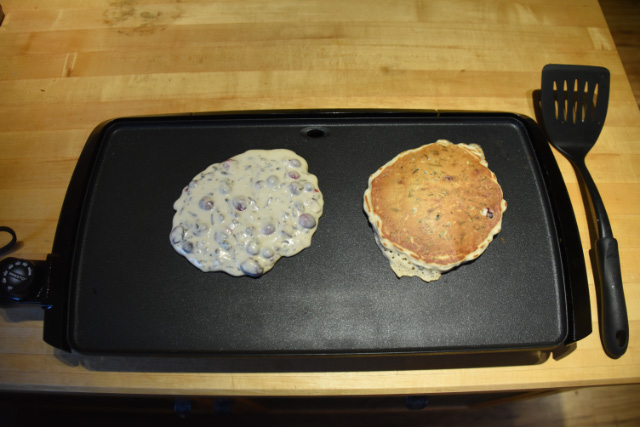 Every year about this time I add a guy's recipe for the upcoming big day. This year it's back to breakfast--the most important meal of the day. But that's one of three, not a lot of competition. Anyway, it's pancake time! Everybody's favorite--even the kids--although they may not like these until they're hungry enough--they'll really love them by mid-afternoon if you use the old "you're not getting anything else" routine.
Cranberry Wild Rice Pancakes. What could be more Minnesotan--and also more Wisconsinite. They get along much better in pancakes than on a football field.
You can always buy of box of pancake mix, but to get full credit and laurels you should make your own. There are a zillion recipes on the internet and very cookbook has a couple but I often use one from a Greek yogurt container. For a double batch just dump together:
3 cups vanilla yogurt
3 cups all-purpose flour
3 tsp baking power
1 1/2 tsp baking soda
1 tsp salt
2 eggs
1 1/2 cup milk
Combine the dry stuff
Mix up the wet stuff
Dump the dry into the wet
This generally comes out like cement that is starting to set up so I add more milk until it's gooey, but not runny.
Remember the Guy Cooks eleventh commandment: Do not use a recipe without making changes. So add a smidgen of vanilla, maybe a titch of lemon juice, perhaps a dollop of sugar. Let me know if you try rum or brandy; I haven't gotten that far yet. And somehow beer pancakes don't sound appealing.
Now for the fun part. Use fresh or thawed whole cranberries. The secret is to put them in the microwave for uno momento. Then check, if soft and just starting to burst open your ready, otherwise nuke a few seconds at a time until perfecto. Drain any juice and dump them in.
Most recipes say to add a 1/2 cup of blueberries, chocolate chips, or whatever. At a minimum always double up on the goodies. Add a cup or more of the cranberries and likewise the wild rice. You need enough batter to hold everything together but the whole object is flavor, flavor, flavor.
Word of warning--cook the wild rice first! Easy to do the night before. Then you have an excuse if things don't turn out right. Just simmer a cup of wild rice in three cups of water for 40-50 minutes or until soft and splitting open. Drain well and it's all set for the morning.
Set the griddle to 350-400 and start spooning on the batter when the itty-bitty light goes off. Don't make them too large and let them brown up before flipping. These things are so loaded that if you try to flip them when they are girly golden you'll have a mess on the griddle. Make sure you have a construction worker tan under them. Serve with real maple syrup.
You've now had a true Northwoods breakfast. You're ready to fire up the chainsaw and cut and split some firewood. These pancakes will fuel you for the whole day. Except that you're now too stuffed and tired to go outside. So park yourself on the couch, turn on the game, and sleep through the first half.
The tag 'Guy's Recipe' will take you to my prior recipe posts.
2014 Guy's Potatoes Extraordinaire
2013 Guy's Caramel Corn Recipe
2012 Guy's Chips Supreme Recipe
2011 Guy's Baked French Toast
2010 Guy's Bread Pudding
2009 Guy's Baked Apples