Christmas Tree Farming Throughout the Year
Every Christmas season we are repeatedly asked "What do we do all summer?" or "What do we do the rest of the year?" The question is usually asked in a way that implies that we plant the trees and then go fishing until it is time to sell them.
In a sense raising, Christmas trees is a bit like raising children. Planting them is the easy part, then the real work begins. We have to care for them (weeding, mowing), treat their ailments (insects and pests), feed them (water and fertilizer), discipline them (shearing), and so on for 10-12 long years. As with kids it is a combination of smiles, frowns, and tears. We do have one big advantage over raising kids--just as the trees are reaching their teen-age years we can sell them off!
Seriously though, Christmas trees are considered to be one of the most labor intensive of all farm crops. We hope this month by month look at the operational aspects of tree farming will give you a better feel for what we do all year long and year after year to create that "best ever" Christmas tree for your family's holiday experience. View this page as a work in progress. we'll continue to add commentary and photos to it as we work throughout the seasons. One nice advantage--I can't be holding a shovel if I'm holding the camera.
January
In January, not really having had any time off since we started setting up for the season the prior October, what we do is mostly catch up on our rest. And catch up on all the office work (bills) that accumulated over the November/December sales season. One important task is to finalize our tree order for the spring. It's also the time to get started on the tax stuff.
Also, we hope for some warm weather (warm is any day without wind) so we can begin to take down some of the outdoor props and displays. Some items are frozen in and have to wait until spring.
February
By February we're back at it. For sure we have to get the taxes out of the way because we won't have time come March or April. There are also a few winter projects to tackle, most notably the model train enhancements for the next season. Also the February/March timeframe is back to school time for us. Both the Minnesota and National Christmas Tree Associations hold educational conferences on a variety of tree growing related subjects.
March
As soon as the snow recedes, we can start the field cleanup. We go through each field and cut out the lower branches and stumps left over from the previous season. It makes for lots of bending and hauling, but gets the fields nice and clean and makes them much easier to maintain. This is a before and after example taken in the White Pine field. Latter on (see below) we'll come back and remove the stump using the skid steer.
Then we have to find and spray all the stumps from the prior year. They become a home for the Pales Weevil, which, when they hatch will eat on the stems and kill our new seedlings.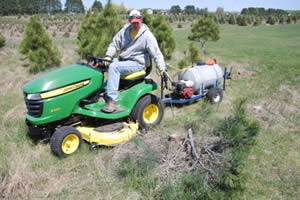 Then, as the fields open up enough to allow use of equipment without damaging remaining trees, we use the skid steer to yank out the old stumps and roots to allow us to smooth out the field for subsequent replanting. Using the skid steer is the easy part, then we have to load and haul them to a burn pile (there is far too much dirt in the roots to consider chipping them) . We also have to hand pull out any remaining roots or clip them off if they can't be pulled out. While we may start this task in the spring, we do it throughout the year as "filler" whenever we have a little extra time.
April
April is a long and hard, but exciting month for us. The new trees are arriving and when they do we want to get them into the ground as quickly as possible. We generally refer to them as seedlings, but they are actually transplants. A transplant is a tree grown in a seedling bed, generally for two years, then transplanted into a new bed for another one to three years. The transplanting produces a much hardier tree stock with a much more developed root structure. So much so that we may have to cut off some excess roots before planting. The trees do best if the roots are completely vertical when planted and not laying partially horizontal in the trench.
Phil has the hard job of driving the tractor because "someone has to keep the rows straight"
Greg and Ron are riding the planter. Each has a seat and a place for their feet. Each has a supply of trees available. A spacer is used to assist in planting each tree about six feet apart. You can also see the irrigation hose unwinding along side the trees. This "drip tape" has become a key to successful planting during our recent hotter, drier summers. We have been doing it for several years. We never had to back in the 1990's, but as the summers heated up our survival rate dropped to under 50%. With irrigation it is 95% or better.
We used to plant mostly by hand -- and still do a little -- in areas where remaining trees interfere with the use of the tractor. It's not that hard in our light sandy soil, but it is tedious and by the end of a long day your back is surely complaining -- but you have had the opportunity to practice your toe touches. Reyna is pretending like she enjoys it.
Notice that even with the drip tape we also mulch each tree -- another by hand job -- but we want to do everything possible to help them survive. We are also experimenting with other options such as fabric ground cloth as shown in the second photo. The third photo shows a newly planted Balsam Fir field -- only 10 years from market!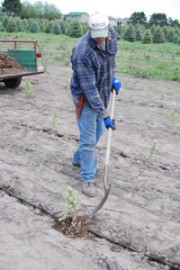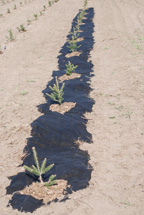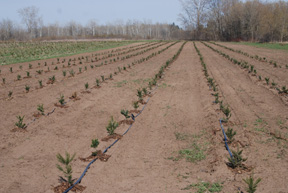 And then there are our underground terrorists--the pocket gophers! Notice below how they chew the roots back to the stem. Also pictured is a five foot scotch pine with the tell-tale lean of extensive gopher damage. We pulled it out of the ground with one yank.
| | |
| --- | --- |
| | |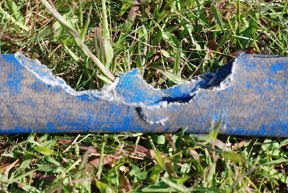 Here is an example of what a gopher can do when it develops a plastic passion. We also buried underground 12 gauge electrical wire along both sides of the entry lane so we could have Christmas lights along the lane and at the entry. The Gophers chewed through one wire near it's start and the other about one-half way out. Unfortunately, they did it in the spring or summer when the power was turned off -- we would have liked to have given them a good shock. Now we have to run extension cords all the way out to the entry for the Christmas season.
So we curse them, then trap them, poison them, drown them smoke them, blast them, bomb them... whatever works.
May
May is one of our favorite months. Nothing brings more joy to a tree farmer then watching the lime green new growth, called "candles" begin to appear. But it is also a dangerous month as a late frost, occurring after bud break, can kill the new growth, replacing the lime green with a brown stem that will hang there all season. The frost doesn't kill the tree, but it will not re-sprout and so will be set back a full year. It can make a larger tree unsalable for this year.
In our light sandy soil the trees, especially the Spruce and Fir, respond well to fertilizing. Most of the fertilizing is done in the spring, but we will do some fall fertilizing if we think the trees need a better "tone" going into the Christmas season. While we can do some smaller trees with the tractor and a spreader, as the trees fill in the rows, we are forced to resort to the bucket and tuna fish can approach.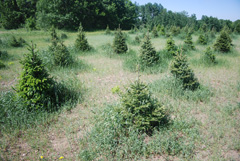 Now if they would only come up with a fertilizer that would only work on the trees and not work on the weeds. The photo on the right shows some of the undesired results.
One not-so-nice job each May (and one of the reasons they cost more) is removing the cones off the Fraser Fir. If not removed by fall, you have an unsightly "stick" where the cone was. This is a very sappy job involving a lot of stepladder climbing to reach the cones which of course are always near the top. We have a bucket of cones in the gift shop that all came off a single tree. Stop by and try to guess how many (we counted them twice). Hint: everyone guesses way too low.
June
By early June the grass and weed growth seem relentless and mowing becomes a daily chore. Helen has finished with the Fraser Fir cones so now she can switch from the "Stair Master" to the "Tread Mill". Greg uses the large tractor with a belly mower on the lanes and a lawn tractor in the rows. While we do use herbicides on occasion, we prefer to mow and avoid chemicals as much as possible--and we would much rather look at a carpet of green then one of brown.
By mid-June it's time to start shearing. Many people think that Christmas trees naturally assume their filled-in symmetry, but, like kids, trees need discipline or else they will grow "wild". Every tree on the farm, once it approaches waist high, must be sheared each year. If a tree is missed it tends to become too wild and loose to properly shape as a Christmas tree.
This task takes the entire summer and sometimes into early September. It gives us lots of time to enjoy the heat and humidity, deer flies and mosquitoes, wasps and ticks. Makes you wonder…
Here Greg is practicing his artistry on a Scotch Pine.
July
July is the month the MN Christmas Tree Association holds it's summer convention. It is held at a member farm on a Friday/Saturday. Most of the sessions are held in the fields and are supported by experts from the U of M and the DNR. We last hosted in 2005, so our turn will soon come up again. If you think cleaning the house for company is a lot of work--try cleaning an entire farm!
Shearing is such a long hard job we just had to show it again. This time in the Fraser Fir field. By mid July we are done with all the pine and have started on the Fir. Actually it helps (a little) to think of shearing as an art form. The artist sculptures, the grower shears. There is a satisfaction in both… in our case only after the fact.
Generally, by now we are irrigating almost continually. Because of our sandy soil a one inch rain only lasts us about four days. For some of the farther fields we have to bring a 500 gallon tank out and back for refill several times a day…and there's no sprinkler to play under!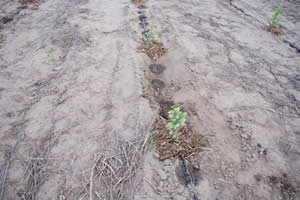 August
Our usual routine is to shear starting in the early morning up until about lunchtime, When it gets too hot we switch to mowing (and sometimes napping). However, August is time for another significant activity…greening.
All the pines--Scotch Pine, Norway Pine, and White Pine, have to be "greened" in late summer. This is because when the temperature starts to go below 32 degrees later in the fall, they quit making chlorophyll which is necessary to keep the needles a true green. Instead of being "evergreens" they become "everpales". The greening is a harmless, non-toxic water based paint that keeps them looking like they did in mid-summer. At the time of application it's difficult to determine which pines have or have not been greened because they all are a lush green. However, by November the difference is striking.
| | |
| --- | --- |
| | |
| | |
| In addition, August is time for the annual National Christmas Tree Association (NCTA) annual convention. This picture was taken at a Christmas tree farm we toured outside of Bangor, Maine, but they do move from state to state each year and Minnesota will again have a turn (our last one was in 1986 so we are about due). We don't get to all the conventions, but we do make quite a few, especially when Phil was serving as the National Director from Minnesota and also the Secretary/Treasurer of NCTA. | |
September
September should be an easier "in-between" month, but rarely is. One major task that Greg takes on is to mow the entire farm. Not just the lanes, but between each row of trees. There are several reasons for this, first, and most important, is to make it easier and safer for people to roam about at Christmas time while searching out their tree. The second reason is to remove as much cover as possible from the field mice and rabbits which love to include the bark of the younger trees in their winter diet. Another reason is to spot any woodchuck holes that need filling. A person could easily step in one and injure an ankle.
September is generally the time we try to freshen-up things a bit with some painting and staining. Helen is usually busy touching-up some of the older props and making some new ones. Phil is back working on the trains, usually in panic mode..
October
In the earlier part of October we go through the fields and individually price the trees available for sale this year. This is a time consuming task, but we feel that it allows us to better manage our inventory. For example, if two trees are starting to crowd each other, we can discount one to make sure it is taken. Also not all trees are identical and we can vary the price to match the quality. We also need to make sure some are held back for next year. As we are doing the pricing, we are on the lookout for any trees that appear to be diseased or stressed. We make sure they are not priced as they probably won't hold their needles well if cut. If severe we'll cut them out and add them to the burn pile. That's one reason why people come in from the fields and say "all the trees look so nice".
As we get further into the month we start our setup. We want to make sure that any prop or sign that requires a hole (and that's most things) is in place before the end of the month. We're in big trouble if the ground freezes and the snow flies before we're done. We also start stringing all our Christmas lights--generally over 10,000.
It is also the time to get all the Christmas season equipment such as the shakers and balers tested out and do any necessary maintenance. By now Phil is in panic mode on the trains.
November
November we like to see it turn cold because we will be going over to our other location and cutting Fraser Fir and Balsam Fir for our pre-cut lot. We monitor the weather reports closely. We want to hold off as long as possible, but need to get into the fields before any heavy snowstorms. Our off-site location is only five miles from the Isanti farm; if the snow is not too deep we may go back as necessary for more fresh cut pre-cuts.
If it turns too cold we retreat to the gift shop to continue it's setup. It smells great in there as Helen and a couple of helpers are busy making wreaths, swags, and garland.
We open doors the weekend before thanksgiving. We are usually not that busy, but need the weekend to get any last minutes kinks out of our systems. This is the weekend for the "where is?" "who was supposed to?" and "it worked last year!" When we open big time on Thanksgiving Friday all systems had better be green.
December

December is really an enjoyable month. The hours are long and there are no days off, but generally by then everything is up and running smoothly. We're in a "what's done is done" mode. What's not can wait for next year.
While the weekends can be hectic at times, the weekdays are slower with time to visit with returning customers. It's great to once again be saying: "Merry Christmas".
With the Christmas season comes the joy, the sharing, the warm memories of treasured family experiences. We like to think that our trees become the centerpiece of your family's holiday tradition. As you gather around your tree to open gifts, our fondest hope is that someone says: "this is the best tree ever". And then all the above effort becomes worthwhile.