A Short History of the Christmas Tree
2010 was the 500th anniversary of the first recorded use of a Christmas tree (they may have been used even earlier, but there is no written record to support it). According to the history books the tradition started in Riga, Latvia (a Baltic port city) in 1510. However, the early celebrations were far different then our own. Initially they carried an evergreen tree into the town square. Apparently it was decorated with either dried roses or cloth roses (history doesn't record which, but they wouldn't be fresh ones in December). It was then placed in the town square and ignited while everyone danced around it.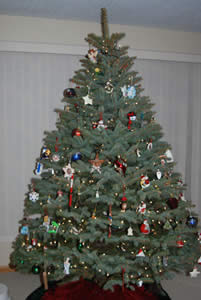 If that seems like a strange way to celebrate, remember that in a dark, cold medieval Europe winter, any type of heat and light was a very welcome treat. Here's another interesting fact: the members of the local merchants guild had a festive dinner and, wearing their finest black hats, were the one's who carried the tree into the town square and ignited it. Sounds like sponsorship to me--was this also the first recorded commercial Christmas? History doesn't tell us if gifts where exchanged, but most likely food and drink were shared.
Fast forward slightly to 1531 to the territory of Alsace which was in Germany back then but is now part of France. The records from the town of Strasbourg show that Christmas trees were sold in the town market. However, unlike at Riga, they were taken home where they were a bit of green, a reminder of the spring to come. There is no indication they were decorated, but, people being people, it's hard not to believe that the tradition wasn't soon established.
In fact, the diary of a visitor to Strasbourg in 1605 records that trees were being decorated with fruits and nuts (probably dried in those days) and lighted candles. It is said that Martin Luther, when walking through the woods one night, looked up at the stars peaking through the branches and decided to take a tree home and put candles on it. In 1895 Ralph Morris did a one up on Martin Luther and invented electric Christmas tree light strings.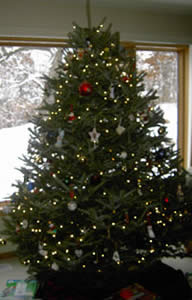 Continuing to fast forward, early German immigrants brought the custom to the United States around 1747. Most fitting, Christmas trees initially appeared in the town of Bethlehem in Pennsylvania. From there they spread through other towns and cities. By 1825 the Saturday Evening Post carried an article about the use of Christmas trees in Philadelphia. Other articles began to appear in other publications, for example, in the 1890's the Ladies' Home Journal carried an article on how to place cotton on the branches to make it look like snow.
Rewinding a bit, one of the first tree farmers was thought to be an individual named Mark Carr, who, in 1851, used an ox sled to get to a steamboat to transport Christmas trees to New York City. It's hard to call him a tree farmer though as these were wild trees cut in the Catskill mountains. The same with the many others who followed since by the 1880's more then 200,000 trees a year were being cut for the major east coast markets. In Washington, D.C. Franklin Pierce must have gotten into the spirit of things around the same time as in 1856 the White House had its first tree.
Again fast forwarding into the twentieth century, the first cultivated Christmas tree farm was thought to be established in Trenton, New Jersey in 1901. Now over 98% of all Christmas trees are from farms where they are cultivated as a crop. Eventually there were enough Christmas tree farms nationwide that the National Christmas Tree Association was established in 1955. Minnesota followed suit and established the Minnesota Christmas Tree Association in the same year.
Washington, D.C. got back in the act in 1923 when Calvin Coolidge established a National Christmas Tree Lighting Ceremony on the lawn of the White House. In 1966 the National Christmas Tree Association presented Lyndon Johnson with a tree for the Blue Room. Both traditions continue to this day.
About this same time, in 1952 Wayne Taff planted Norway Pine and Scotch Pine trees on his farm in East Bethel. We have an old flyer of his from the late 1950's in which he was selling them at $3.00 each. Back then they were essentially unsheared and very open and wild looking. The pine were ungreened and there was no shaking or baling. Many were only 5-6 feet in size, but remember that many homes were only about half the size of today.
We moved in next door to Wayne Taff in 1972 and gradually bought parts of his farm after he closed the farm and retired in the late 1970s. After clearing out the remaining overgrown trees, we started replanting in 1983 and reopened it in 1990 as East Bethel Pinestead. We operated it for 18 years but closed it in 2008 so that the remaining trees could be brought to our Isanti location as pre-cuts.
In 1986 we purchased our present farm by Isanti, and, to paraphrase, the rest is recent history.
Named Isanti Pinestead, it was opened to the public in 1993. While we continue to plant each year following a rotation plan for each species, in 2004 we purchased additional nearby land on which to grow more pre-cuts for Isanti Pinestead. This allows us to reserve the trees growing at Isanti for our choose-and-cut customers.
So of the first 500 years, we have only been a party to the most recent 27 years. We can only hope and pray that Christmas and the Christmas tree tradition will be alive and well 500 years from now. We will be grateful for whatever small contribution we can make in the early years of the second 500.